Songshan Won Top Prize in Midea's 2017 Supplier Conference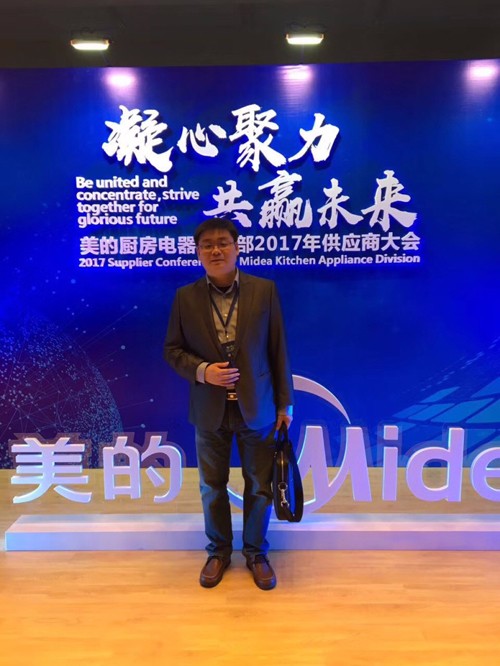 2017 Supplier Conference for Midea Kitchen Appliances Division was held in Foshan, Guangdong, the headquarters of Midea on November 29, 2017. The conference released good news that Shanghai Songshan Electronics Co., Ltd. won top prize for Electronic Component Suppliers. Qin Haojun, the General Manager of Songshan attended the supplier conference and received the top prize on behalf of Songshan. As a matter of fact, Songshan has won the top prize and other awards from Midea many times in the past years.
For decades, Songshan has supplied miniature fuses to Midea and kept close cooperation with Midea, a giant household electrical appliances maker and one of the world's top 500 enterprises. Songshan has made tremendous efforts and thus has become the largest fuse supplier to Midea, accounting for 80% of total fuse demand of Midea. Songshan was founded in Shanghai in 1958 and Songshan has been capable of making fuses with advanced technology, superior quality and strong competitiveness with almost 60 years of experience and expertise. The top prize awarded in the supplier conference demonstrated the Midea's recognition and expectation to Songshan.
Songshan will work hard continuously to consolidate and strengthen the business cooperation with Midea for miniature fuses and other circuit protection products. In addition to microwave oven fuses, Songshan is actually pushing a full range of cooperation with Midea, such as air-conditioning fuses, washing machine fuses and other small home appliances fuses. Songshan will spare no effort to contribute its creative energy to the process of transformation and upgrading implemented by Midea with its continuous research, development, innovation and technology.
Please feel free to give your inquiry in the form below.
We will reply to you in 24 hours.