How to Select a Fuse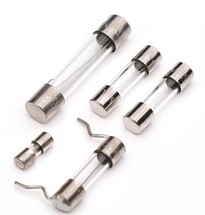 Selection process of a fuse:
1. Safety regulation certification: select the safety regulation certification of a fuse according to the safety regulation certification required by the whole machine, such as UL specification or IEC specification.
2. Structure & size: select the size of a fuse according to the space in circuit design, such as length, diameter, with or without lead, etc.
3. Rated voltage: it is necessary to be greater than or equal to the practical application voltage, generally including 24V, 32V, 63V, 125V, 250V, etc.
4. Breaking capacity: it should be greater than the maximum fault current in the circuit.
5. Rated current: refer to the following items:
(1) Normal operation current operating at 25℃
UL rated current of a fuse ≥ normal working current / 0.75;
IEC rated current of a fuse ≥ normal working current / 0.9.
(2) Environment temperature: the current carrying capacity test of a fuse is carried out under the condition of environment temperature of 25℃. The higher the environment temperature is, the shorter the life of a fuse is, the lower the carrying capacity is. Therefore, when selecting a fuse, the influence of environment temperature on current carrying capacity should be considered.
(3) Pulse: the pulse will generate thermal cycle and mechanical fatigue that will affect the fuse life. In the design, the pulse I²t shall be smaller than the fuse's nominal melting heat I²t under the premise of considering the pulse factor.
Fuse rating I²t > practice pulse I²t / Pf
Pf: pulse factor, it varies according to the number of acceptable pulses.
6. Test
The samples selected by the above procedures need to be tested in the practical circuit, and then verify whether the selected fuse is suitable. This verification shall include tests under normal and fault conditions to ensure the protection effect of the selected fuse in the protected circuit.
Shanghai Songshan Electronics Co., Ltd., established in 1958, is the first China's enterprise engaged in the development and production of miniature fuses, and China's largest professional high-tech enterprise for miniature fuses, and one of drafting units of China national standard GB/T9364 for miniature fuses, and the designated supplier of aerospace-grade fuse of Chinese aerospace.
Songshan has a wide product range, including cartridge fuses, micro fuses, SMD fuses, microwave oven fuses, thermal fuses, PPTC resettable fuses, aerospace fuses, military fuses, fuse holders and fuse clips, as well as other circuit protection devices. Songshan's products are all lead-free for manufacturing that complies with RoHS Directive and REACH regulations. Songshan obtained the country-specific certifications such as VDE, TUV, BS, UL, UR, PSE, etc.
Please feel free to give your inquiry in the form below.
We will reply to you in 24 hours.