Brief Introduction of Glass Tube Fuse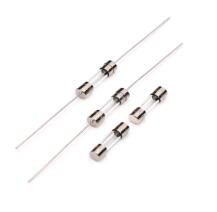 Fuse tube, is to ensure the safe operation of the circuit electrical components, is a kind of fuse. Glass tube fuse can effectively prevent molten metal from splashing on other devices, and also insulate high temperature. Ordinary glass tube fuse is often used in electronic circuit board with dense devices. Due to the characteristics of convenient quick replacement and maintenance, it can also be installed in wires, plugs or special fuse holders; the sealed fuse tube can also be used for equipment in explosion-proof places.
According to the fusing speed, the glass tube fuse can be divided into: ultra slow fuse (generally expressed by TT), slow fuse (generally expressed by T), medium speed fuse (generally represented by M), fast fuse (generally represented by F) and ultra fast fuse (generally represented by FF). Generally, the diameter of glass tube must be φ 5mm, and 5x20mm is the most conventional glass tube fuse, conforming to the standard IEC60127.
There are some important reasons for choosing glass as the material of fuse tube. We analyze several main reasons as follows,
1. Glass tube is a kind of non-metallic pipe, which has good performance and belongs to good insulating material.
2. Widely used in chemical industry, aerospace, military, family, hospital and other fields.
3. It is easy to observe the fusing condition of the fuse and replace the fuse easily.
4. It has good promotion value and social benefits.
5. Low cost.
Shanghai Songshan Electronics Co., Ltd., established in 1958, is the first China's factory engaged in the development and production of miniature fuses, and is China's largest professional high-tech enterprise for miniature fuses.
Please feel free to give your inquiry in the form below.
We will reply to you in 24 hours.