Fuse Holder for Tubular Fuse 6 x 30 mm
Brand : Songshan
Product origin : Shanghai
Delivery time : 7-15 days
Supply capacity : 15000000
Model No.: BH001-2
Usage: Electronic
Material: Bakelite
Installation: Lead Wire Type
Type: Lead Wire Fuse Holder
Form of Installation: Insurance Tube Holder
Environmental Protection: Environmental Protection Fuse Holder
Packaging: Carton
Brand: Songshan
Transportation: Ocean,Land,Air
Place of Origin: Shanghai,China
The fuse holder is mainly used in circuit protection of elevators, medical devices and electrical work tools etc. The service voltage is at 250V, and it could be safely used in the AC circuit with current at 10A. The outer dimension is Ф19.2 Х 52 mm, it could bear 3 times extreme temperature changing, and the insulation resistance should be higher than 100MΩ. The fuse sized in 6.3 x 30 mm could be installed inside, the service temperature is within -40~+70℃. There is limited influence from the temperature changing thanks for the electric bakelite material. The plastic parts of this fuse have clean surface without loosening holes, bubbles or cracks.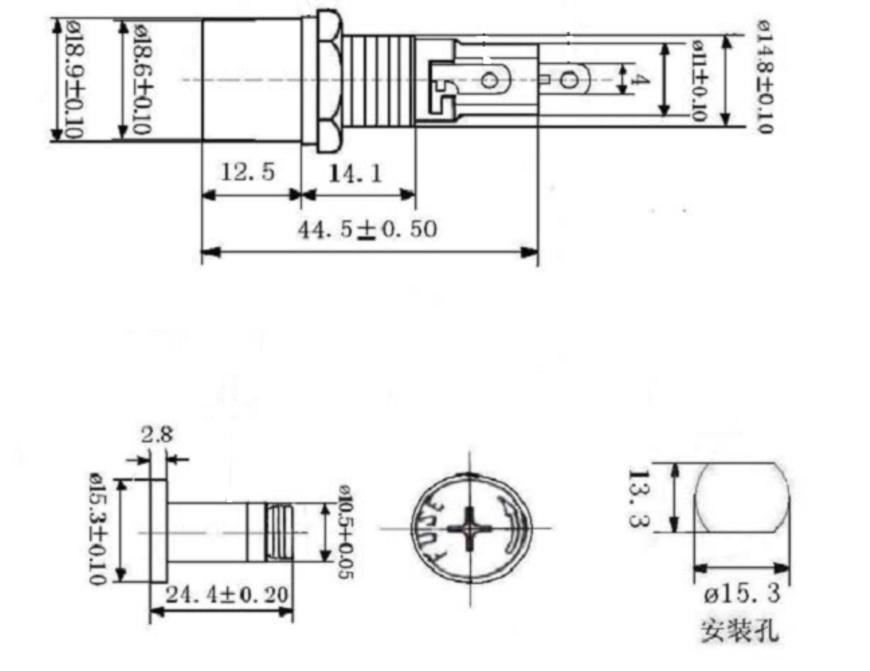 Fuse-holders
A=Model B= Dimensions
C= Current/Voltage D=For Fuse-Links
E= Plug in and Take off Force F= Contact Resistance
G= Dielectric Strength H= Insulation
A=BH001-2
B=Ø19.2×52
C=10A/250VAC
D=Ø6.3×30
E=>1N
F=<0.02Ω
G=3000VAC
H=>1000MΩ
References: RT1-30 RF1-30 326B FN SN 324/326
RF1-30(C) RT1-(32)30
326C RT1-30(H) RF1-30(H)
Please feel free to give your inquiry in the form below.