Fuse Holder for Tube Fuse Ø6.3×30 mm
Brand : Songshan
Product origin : Shanghai
Delivery time : 7-15 days
Supply capacity : 15000000
Model No.: BH001.BH001-A
Usage: Instrument
Material: Bakelite
Type: Lead Wire Fuse Holder
Form of Installation: Insurance Tube Holder
Environmental Protection: Environmental Protection Fuse Holder
Packaging: Carton
Brand: Songshan
Transportation: Ocean,Land,Air
Place of Origin: Shanghai,China
BH001 fuse holder is applicable for the AC circuit with rated voltage at 250V and current at 10A /20A, for installing small tube type fuse sized in Ø6.3×30 mm. The service environment is as below: Temperature : -40~+70℃ Relative Humidity: 93±3% when the temperature is +40℃ Atmospheric Pressure: 40kPa Vibration: frequency 50Hz,accelerated speed 50m/s2 The specific measuring and testing should be under the normal testing atmospheric conditions which is mentioned in GB2421-81 Rules of Electrical and Electronic basic environment test.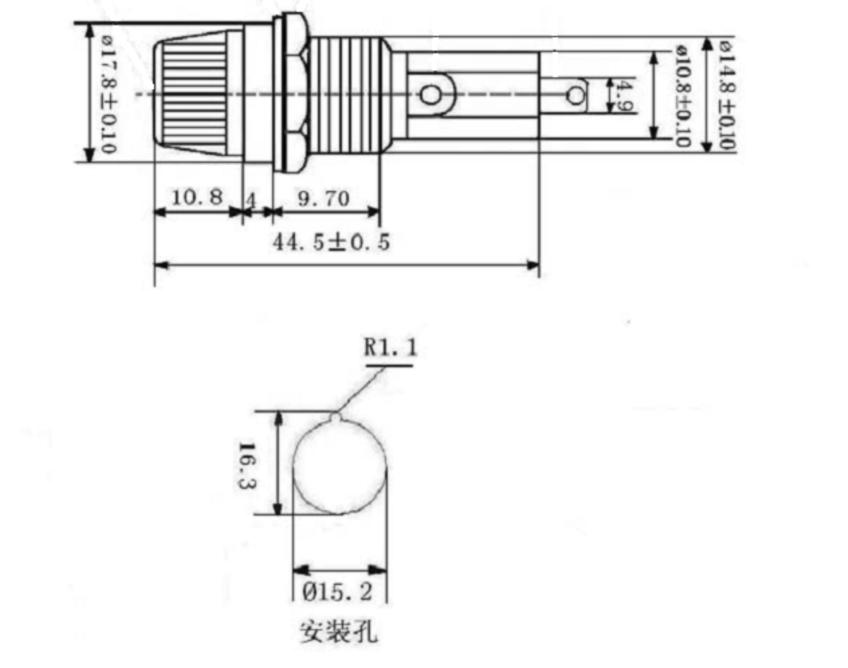 Fuse-holders
A=Model B= Dimensions
C= Current/Voltage D=For Fuse-Links
E= Plug in and Take off Force F= Contact Resistance
G= Dielectric Strength H= Insulation
A=BH001
B=Ø18×50
C=10A/250VAC (BH001)
20A/250VAC(BH001-A)
D=Ø6.3×30
E=1N
F=<0.02Ω
G=3000VAC
H=>1000MΩ
References: RT1-30 RF1-30 326B FN SN 324/326
RF1-30(C) RT1-(32)30
326C RT1-30(H) RF1-30(H)
Please feel free to give your inquiry in the form below.