Fuse Holder for Cartridge Fuse Ø6.3×30 mm
Brand : Songshan
Product origin : Shanghai
Delivery time : 7-15 days
Supply capacity : 15000000
Model No.: BZ001
Usage: Instrument
Material: Bakelite
Installation: Lead Wire Type
Type: Lead Wire Fuse Holder
Form of Installation: Insurance Tube Holder
Environmental Protection: Environmental Protection Fuse Holder
Packaging: Carton
Brand: Songshan
Transportation: Ocean,Land,Air
Place of Origin: Shanghai,China
BZ001 fuse holder is for installing small tube type fuse sized in Ø6.3×30mm, the fuse holder could work in the AC circuit with rated voltage at 250V and current 10A. The fuse holder is mainly used in central protection of master power system. It is fixed by bolts with the merits of high anti-vibration and easy installation. The dimension is 14*23.2*48, and its dielectric strength is over 3000V. The body is made of electrical bakelite with high insulation property. The fuse holder has been successfully sold 1mil sets without any quality claim for 10 years , could be first choice of endurable fuse holder.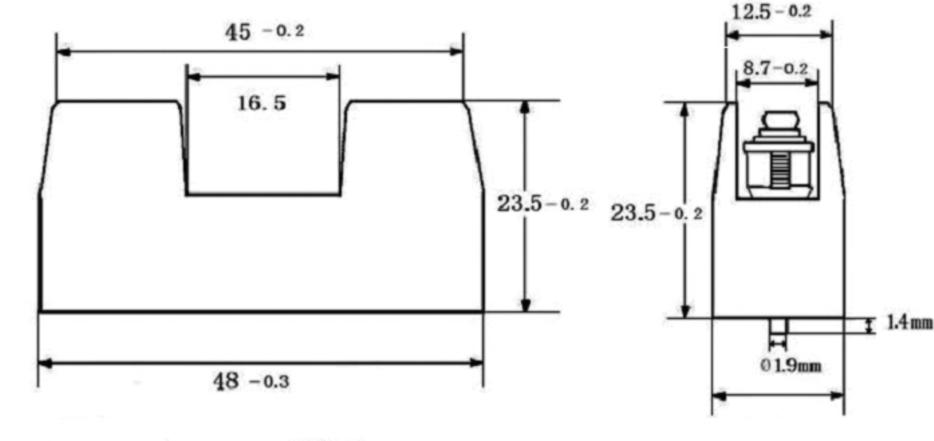 Fuse-holders
A=Model B= Dimensions
C= Current/Voltage D=For Fuse-Links
E= Plug in and Take off Force F= Contact Resistance
G= Dielectric Strength H= Insulation
A=BZ001
B=14×23.2×48
C=10A/250VAC
D=Ø6.3×30
E=>5N
F=<0.03Ω
G=3000VAC
H=>1000MΩ
References: RT1-30 RF1-30 326B FN SN 324/326
RF1-30(C) RT1-(32)30
326C RT1-30(H) RF1-30(H)
Please feel free to give your inquiry in the form below.