Fuse Holder for Blade Fuse
Brand : Songshan
Product origin : Shanghai
Delivery time : 7-15 days
Supply capacity : 15000000
Model No.: LM-1/LM-2
Usage: Instrument
Material: Bakelite
Installation: Lead Wire Type
Type: Lead Wire Fuse Holder
Form of Installation: Insurance Tube Holder
Environmental Protection: Environmental Protection Fuse Holder
Packaging: Carton
Brand: Songshan
Transportation: Ocean,Land,Air
Place of Origin: Shanghai,China
LM-1/LM-2 fuse holder is an improved blade model based on the former Soviet Union's technology. It has multiple characteristics such as anti-vibration, high stability and applicability under wide-range of current etc. The fuse holder is widely used in power protection of ships, industrial controlling equipment and large vehicles. By using the fuse holder with Songshan's fuse BGXC-1/BGDC-1, the range of current could be extended to the overload protection at Maximum 60A. With two years of technical breakthrough, this fuse made of high strength elastic copper material performs its excellent properties in various models of ships and industrial controlling equipment in these years.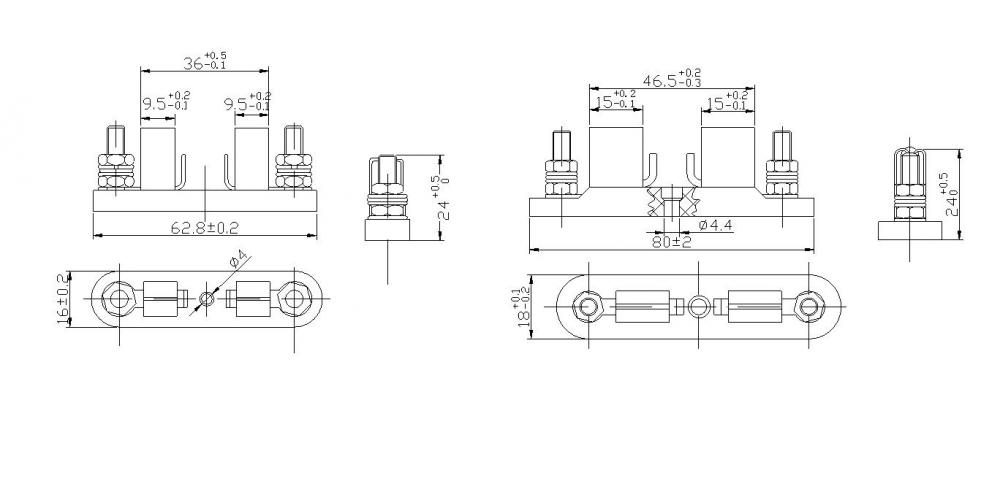 Fuse-holders
A=Model B= Dimensions
C= Current/Voltage D=For Fuse-Links
E= Plug in and Take off Force F= Contact Resistance
G= Dielectric Strength H= Insulation
A=LM-1/ LM-2
B=63×16×25(LM-1)
80×26×18(LM-2)
C=20A/250V(LM-1)
40A/250V(LM-2)
D=Ø8×37(LM-1)
Ø12×50(LM-2)
E=>1N
F=<0.02Ω
G=3000VAC
H=>1000MΩ
Please feel free to give your inquiry in the form below.