Fuse Holder Ф15Х36 mm
Brand : Songshan
Product origin : Shanghai
Delivery time : 7-15 days
Supply capacity : 15000000
Model No.: BH003-5
Usage: Instrument
Material: Bakelite
Installation: Lead Wire Type
Type: Lead Wire Fuse Holder
Form of Installation: Insurance Tube Holder
Environmental Protection: Environmental Protection Fuse Holder
Packaging: Carton
Brand: Songshan
Transportation: Ocean,Land,Air
Place of Origin: Shanghai,China
The fuse holder, with dimension Ф15Х36 mm, is a back installed type, and it is broadly used in power protection of satellite navigation, high-speed train's locomotive and military equipment with multiple characteristics, such as small volume, easy maintenance and simple installation. The fuse holder could be installed easily by referring to the specific hole opening dimension drawing. The fuse holder can perform no breakdown or flashover in 400V AC voltage under the low pressure 40KPa. As one of the major applicable fuse holder, it could be safely used under the temperature within the range of -40~+70℃, applicable most working environment nowadays.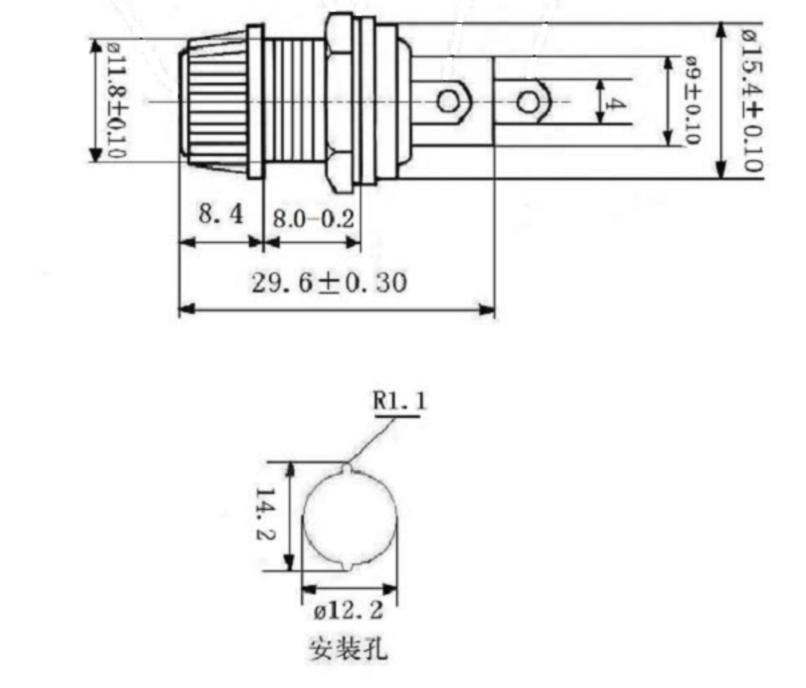 Fuse-holders
A=Model B= Dimensions
C= Current/Voltage D=For Fuse-Links
E= Plug in and Take off Force F= Contact Resistance
G= Dielectric Strength H= Insulation
A=BH003-5
B=Ø15×36
C=6A/250VAC
D=Ø5×20
E=>1N
F=<0.02Ω
G=1500VAC
H=>1000MΩ
References: Corresponding Fuse RF1-20 RT1-20 S F 210
RT1-20(C) RF1-20(C)
RT1-20(H) RT1-20(E) RF1-20(H)
Please feel free to give your inquiry in the form below.